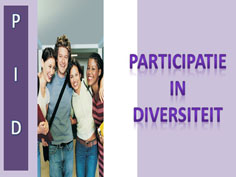 Participatie in Diversiteit
---
P
iD means Participation in Diversity, the name of our Dutch foundation.
The mission of PiD is to stimulate and enhance social participation of migrants by supporting activities on local as well as on national level and by exchange in European projects. We do this by project management, consultancy and training.
Further on, the foundation has frequently contact with several migrant, refugee and asylum seeker organizations and is supporting these organisations by organizing and tutoring education and training, by consulting activities.
PiD works often with people from disadvantaged migrants groups in projects on family education, good parentship, children rights, combatting honour-related and/or domestic violence and also with projects with parent participation at school, integration courses, housing and neighbourhood projects.
PiD offers services to local authorities, social and welfare work, housing corporations, care providers, citizen's initatives and neighbourhood organisations.

---
Links: