2nd Applied Diversity Awareness Workshop in Hannover
Input "Critical whiteness and racism"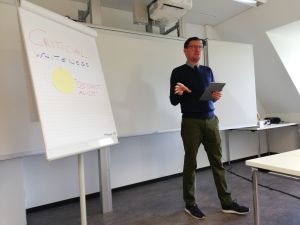 The field of whiteness studies is relatively young compared to other well-established disciplines, including critical race theory. On its trajectory to carve out a new academic niche, whiteness studies is challenged with, and must therefore negotiate, a wide range of criticisms intended to dismantle the enterprise especially in an European perspective. Despite various complaints that cast doubt upon the legitimacy of the subject, whiteness studies do make a substantial contribution to the study of contemporary racism and the processes of racialization, usually from a white person's perspective. Additionally, a long US tradition in Black history cannot be find in Europe and other parts of the world in a similar intensity. The workshop concludes with a discussion on the relevance of whiteness studies in today's European context and future prospects for racial equality. I suggest that whiteness studies offers a distinctive standpoint to explore racism, which provides the potential for this field to contribute to our understanding of racial justice in ways that warrant its emergence.
Group work: critical whiteness perspective on your institution
Phase 1: Exchange in small groups (4 participants per group)
Questions to discuss in the small groups about your institution:
Who is there?
Who is missing?
Power circles
My role?
Phase 2: Exchange in the plenary about the results of the exchange
Some of the points which were discussed:
The participants released which persons are missing in their organisation, for example in one organisation working for persons with a disability, there are no employees as teachers or managers with a disability.
Accessibility of buildings (for persons with a physical disability)
Lack of applications from persons with a disability
Role of the second job market (protection, but also fear of leaving it)
Requirements of certificates, e.g. to teach
Which are invisible barriers in the culture of an organisation?! e.g. culture of working 60 h a week; being able to move quickly from one course room to the next – not that easy for users of wheel chair; the culture that the body needs to function all the time
Regarding power circles: who is willing to take responsibility?! Who is willing to adapt to change?!
What is missing à what is needed regarding innovation for an organisation?! E.g. in the Netherlands two cities have majors with a Moroccan background.
Diversity Walk


After lunch we asked participants to walk back to VHS with eyes open and the following questions in mind
Questions:
What can you see regarding diversity during your walk? Also with the critical whiteness perspective?
What is similar and different in comparison to your walk in Graz?
Also keep the diversity wheel presented during Transnational Project Meeting 1 in mind and its different dimensions of diversity (e.g. age, gender, national origin, sexual orientation, mental / physical ability, religion, income, etc.), http://web.jhu.edu/dlc/resources/diversity_wheel/index.html
Summary of discussion / results of exchange:
Some participants perceived a relaxed atmosphere in the streets, people walk at a slower pace.
Some noticed, that people in the streets are older (late 40s – 70s), there were hardly any children.
There are lots of customers in restaurants, the restaurants are crowded.
There are lots of different, international restaurants.
We discussed about typical drinks and food in the city: we learned that due to previous migration history and geographical location, the local food was influenced from the South and North.
Compared to Graz, in Hannover more differences were perceived in a short period and space.