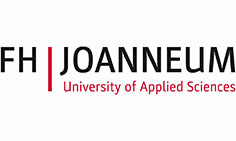 FH Joanneum
---
A
s an application-oriented university, FH JOANNEUM offers students a practice-oriented education on a full-time or part-time basis, and cooperative programmes with an interdisciplinary focus. FH JOANNEUM combines academic education with practical training. The range of programmes offered is designed with a view to meeting current international, commercial and technological challenges and the needs of industry, and with a focus on the future employability of the graduates.
FH JOANNEUM provides its 4,500 students with the infrastructure they require for an excellent education, and implements new methods of teaching and learning, including the use of new media. In view of the importance of life-long learning, FH JOANNEUM offers a range of postgraduate programmes and tailored continuing education courses designed to meet the needs of internal and external stakeholders.
FH JOANNEUM's applied research and development activities ensure the high quality of the teaching. FH JOANNEUM is a driver of innovation, working in cooperation with partners in education and business. FH JOANNEUM contributes to making Styria attractive as a location for industry and as a place to live, and is firmly anchored in the region, in Graz, Kapfenberg and Bad Gleichenberg.
49 Bachelor's and Master's Degree Programmes in 6 Departments
With its highly specialized degree programs in the areas of international business and technology, information engineering, mobility, media and design, social services and public health, FH JOANNEUM is one of Austria's leading Universities of Applied Sciences. The degree programs are offered at university level and aim at a professional training on a scientific basis.
Department of Applied Computer Sciences
Department of Engineering
Department of Health Studies
Department of Building, Energy & Society
Department of Management
Department of Media & Design
Institute of Social Work
The Institute of Social Work is part of the Department of Building, Energy & Society. The Institute runs a BA and an MA programme for social work. The degree programmes of the Institute intentionally combine the traditional social work profession with topics of societal relevance such as eco-social innovation, the challenges brought about by migration and issues of social distribution.
The degree programmes prepare the students to provide professional support for people in critical life situations. They are trained to develop problem solutions for a range of applications in the areas of care for children/young adults and families, in the field of migration and asylum, in the provision of subsistence needs and custodianship, supporting elderly or sick people, advice for relatives and for problems with criminality, violence or debt.
The R&D centre at the Institute of Social Work focuses on projects related to social work. The Institute has gained extensive experience in interdisciplinary cooperation in innovative and unconventional projects with the aim of improving support systems for clients. The Institute has carried out evaluation projects to research work with elderly people, people in prison and with people who have learning disabilities. Projects have been conducted in the field of integration, prevention of violence, homelessness and handling prejudices and violence in social institutions.
---
Links: